A few weeks ago, I was so hooked up with Japanese movies! I've been going to Japan for the nth time but its only this time that I appreciate their movies. :)
Here are my top picks.
Tada, Kimi Wo Aishiteru (Heavenly Forest)
I was crying so hard when I was watching this film! As in I cried like a baby! Awww. Hahaha! This movie is a Japanese film adaptation of Ichikawa Takuji's novel "Renai Shashin: Mo Hitotsu no Monogatari". Photography in this movie is one of its strongest points besides acting. And I love photography! Both of the lead actors were just amazing! I was not mentally prepared that I would cry so much while watching this movie but its worth every tissue! Anyway, this movie is one of the best Japanese movies out there so don't miss it! :)
Kimi Ni Todoke (Reaching You)
I fell in love with this movie because of its lead actor Haruma Miura! Gosh! He is so damn cute! I fell in love with him the moment he smiled. Awww. My heart is melting just thinking of it! Haha! All in all, this is a feel good movie. Nothing too much, and no villain. But I think the actors really played well. And also, one thing about this movie is its beautiful scenery. Gosh! I missed Japan! :)
Sekai No Chushin De, Ai O Sakebu (Crying Out Love in the Center of the World)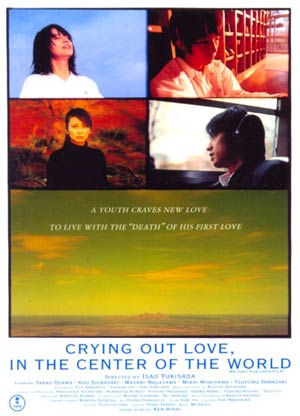 This is a beautifully shot and profoundly touching film about love and grief.
The film travels between two time lines. I really felt the love between the characters, which is why I am so deeply moved by their love story. :)
Taiyou No Uta (Song of the Sun / Midnight Sun)
The story is very moving if you allow yourself to get drawn to it. It is about a

girl who can only live at night and a high school student who loves to surf as the sun rises. The s
ongs in the movie was great and suited the movie character of a street singer -
Goodbye Days, Skyline and It's Happy Days.
I also cried while watching this film. :D
The thing about Japanese movies is that they like their characters to die in the end. Haha. Well, 3 out of 4 in the movies I have posted, the lead character had died in the end. Lol! But Japanese movies are really good, and I can't believe I only appreciated it now.